Simplify life on campus
Keeping students and staff safe is essential for any learning community.
Gallagher's integrated security solutions provide complete campus control from one central management platform, and deliver a seamless experience for your learning environment.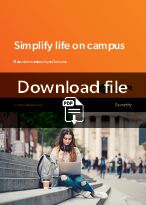 Gallagher Security provides four key benefits to the education industry.
Keep people safe
Gallagher's security solutions allow operators to respond swiftly and accurately during critical events such as fire, natural disaster, terrorism or active shooter threats - providing peace of mind that your campus is a safe and secure environment.
Reduce cyber security risks
A cyber breach of your security system could have far reaching consequences. Gallagher's solutions are designed to mitigate the risk of cyber attack and protect your data.
Protect assets
Gallagher's security system integrates with student and employee credentials, allowing you to carefully control access to restricted areas like medical and research laboratories, swimming pools and sports facilities.
Optimize facility use
Gallagher Command Centre, the powerful software at the heart of our integrated security solutions, allows you to efficiently manage a distributed campus with multiple sites, and buildings, and requirements, all from one central system.
Stay up to date with Gallagher
Get the latest Gallagher news, updates, and event information delivered straight to your inbox.