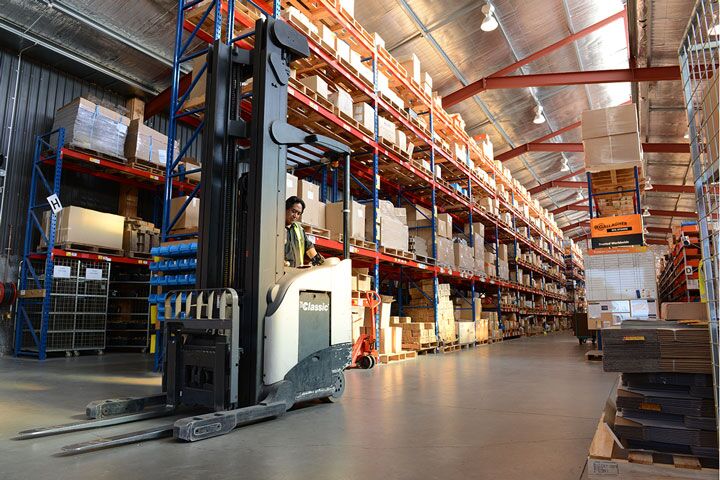 When it comes to a robust security solution, there are many factors to consider. From physical security measures like site management software and access control to cyber security measures, the factors can seem endless. However, one of the most important considerations is finding a reliable and trustworthy security manufacturer. A vertically integrated security manufacturer offers many benefits, including a single point of contact for all your security needs, a comprehensive product portfolio, and enhanced quality control. By working with a vertically integrated security manufacturer, you can be confident that you are getting the best possible products and services for your needs.
What is vertically integrated manufacturing?
A vertically integrated manufacturer is a company that controls the entire process of making a product, from sourcing materials to assembly to packaging and distribution. The main advantage of vertical integration is that it can lead to cost savings. By owning all or part of the production process, a company can avoid paying markups to middlemen and can pass those savings on to consumers. In addition, vertical integration can also provide a company with greater control over quality and allow them to respond more quickly to changes in the market.
In contrast, outsourced manufacturing refers to the practice of contracted production, in which a company hires another company to produce parts or finished products.
Outsourcing vs vertically integrated manufacturing
Outsourced manufacturing can have benefits. As a frequently cited example, supporters will point to the cost savings delivered by specialized operations, able to focus on just producing their unique componentry. Savings which may then be passed on to integrators and customers – but it has its downfalls. Through widespread outsourcing, manufacturers lose direct control of their production and open themselves up to risks, including supply chain disruptions and business continuity challenges. This risk is amplified if the companies being outsourced from are themselves reliant on outside companies for manufactured components.
On the flip side, vertically integrated manufacturers hold control of their manufacturing processes through designing, engineering, producing, and distributing their hardware from one source. With less dependency on third parties, vertically integrated manufacturers are automatically less at risk of the effects of global events on supply and distribution. With everything produced under one roof, it allows them to be more agile and flexible, and able to quickly adapt as needed to meet ever-evolving industry demands.
With control over the full supply chain, they can respond rapidly to emerging challenges. Full oversight of production results in shorter lead times and the ability to deliver on demand. With numerous business disruptions causing challenges to supply, production, and distribution around the world, considering vertically integrated security manufacturers helps integrators manage risks.
Benefits of a vertically integrated manufacturer
A vertically integrated security manufacturer also offers advantages over an outsourced security provider in terms of:
Customization of product design
Stronger relationships for security integrators
Overcoming the challenges of multi-vendor solutions
Quality control
Reduced lead times
Manufacturing and supply flexibility
Customization of product design
First, a vertically integrated manufacturer can provide a higher level of customization and flexibility when it comes to product design. This allows the manufacturer to tailor products specifically to the needs of their customers, resulting in a more efficient and effective security solution. In addition, a vertically integrated manufacturer is typically able to offer a wider range of products and services, giving customers more options to choose from.
Stronger relationships for security integrators
For security integrators, working with manufacturers who can guarantee supply supports them to foster stronger relationships with their customers through an improved experience, leading to longer customer retention. Planning projects from the outset with manufacturers who can guarantee supply ensures integrators are able to better meet the security needs of their customers and removes the cost and inconvenience of carrying out last-minute redesigns due to product unavailability. Customers, in turn, benefit from having projects completed on time, ensuring efficiency through avoiding long delays and associated rising product costs. A strong supply chain creates a lower risk environment, alleviating a source of stress during unpredictable times.
Overcoming the challenges of multi-vendor solutions
A vertically integrated manufacturer offers a single point of contact for all security needs. This saves businesses time and money by consolidating all security requirements into one contact. Additionally, it eliminates the need for multiple vendors and maximizes economies of scale. A vertically integrated manufacturer is also able to provide a higher level of customer service because they are familiar with the manufacturing process and understand the unique security needs of each stage. As a result, businesses can rest assured that their security needs will be met in a timely and efficient manner.
Quality control
Vertically integrated manufacturers are better able to guarantee quality of their solutions, with full visibility and the ability to ensure built-in quality processes. By controlling the entire production process from start to finish, a vertically integrated manufacturer is able to ensure a higher level of quality control, ensuring that products meet the highest standards. This can lead to fewer defects and happier customers. As a result, vertically integrated security manufacturers are able to provide a superior level of service and value to their customers.
Reduced lead times
When a company outsources manufacturing, it can be at the mercy of the other company's production and supply timetable. A vertically integrated manufacturer can reduce lead times and allow for more flexible production schedules. By controlling the entire production process, they can avoid delays caused by suppliers or other outside factors. In addition, vertically integrated manufacturers can more easily respond to changes in customer demand.
Manufacturing and supply flexibility
Finally, vertically integrated manufacturing provides companies with the ability to scale up or down production as needed, without having to renegotiate contracts or find new suppliers. In today's rapidly changing marketplace, this flexibility is essential for success. For all these reasons, vertically integrated manufacturing is the better option for customers.
The Gallagher Delivery Model – the best of vertical integration and more
During times of global crises, Gallagher has proven we can do what others cannot – continue to supply security solutions without delay. While supply chain slowdowns have halted production across the industry, Gallagher's on-site manufacturing facility has been up and running to deliver when others can't. The Gallagher Delivery Model includes the best of vertical integration and more!
The secret is our vertically integrated manufacturing, engineering powerhouse, and dedicated global manufacturing team, combined with the long-term, highly trusted relationships we hold with our supply chain. This, combined with a heavy investment in supply chain resiliency and the re-engineering of our products to use new, improved, and available chipsets, means we have stock available to ship right now.
For more than 80 years, Gallagher has manufactured and distributed innovative, high-quality products and solutions from our global headquarters in Hamilton, New Zealand. We design, manufacture, and distribute our security solutions from our Hamilton site – offering complete oversight of our manufacturing and distribution process. We employ a dedicated supply team who proactively monitor our position to ensure material availability, while our data scientists create scenario models to predict usage and guarantee certainty of supply into the future. These teams help ensure we maintain quality and enable us to make changes and implement strategies to ensure continued availability, quickly and easily.
Orders are distributed from our Hamilton site to our global Gallagher warehouse networks, before making their way to you. We pride ourselves on next-day distribution for over 95 per cent of our purchase orders. Furthermore, with full control of our on-site manufacturing, our agile, expert teams can rapidly innovate and bring new technologies to our customers, fast.
Gallagher's dedicated teams work hard to maintain the strong relationships they hold with raw material and electronic component suppliers. We pride ourselves on the long term, highly trusted relationships we hold with our supply chain.
Our Hamilton headquarters and regional sites around the world are continuously growing to meet global demand. Our global engineering powerhouse ensures we can continue to supply our solutions to support our partners and customers now, and into the future.
Talk to us
Integrators who choose vertically integrated manufacturers can lower the risk of business disruptions impacted by global supply and distribution challenges. These companies have strong supply chain management practices that ensure high quality control, ensuring you'll get industry leading products delivered on time!
We can supply now! Send us your purchase orders today or contact your local Gallagher representative to learn more about the Gallagher delivery model and how we can meet the needs of your projects.