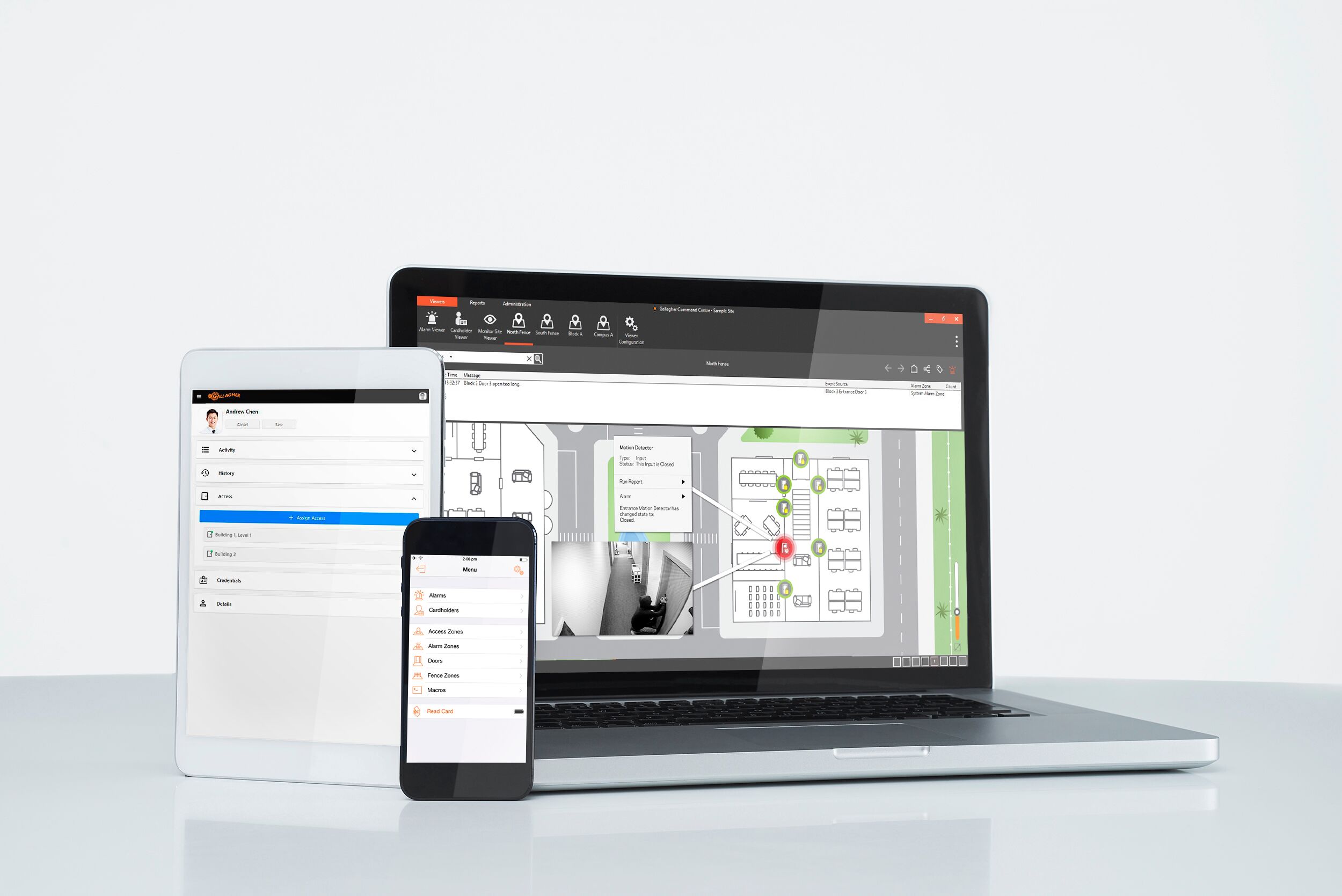 At Gallagher, we are constantly innovating to bring you the latest technology. The latest version of Gallagher's award-winning site management software, Command Centre, is now available bringing to market our evolution into cloud technology, feature enhancements, and further support for integrations. Command Centre, is a truly united security ecosystem and the ultimate solution for managing your people, site, and business. This latest Command Centre release makes security easier, faster, and more efficient.
Command Centre Web: The evolution of Command Centre
Command Centre v8.80 introduces our new web-based solution, Command Centre Web. As the latest evolution in our suite of Command Centre products and one of the most significant releases of v8.80, it provides cloud-based flexibility to customers, allowing them to perform cardholder management tasks from any internet connected device, without the need to use or maintain a full Command Centre workstation.
Command Centre Web connects back to a site's on-premises server using the Gallagher API Gateway, allowing safe and secure access from anywhere there is an internet connection. Log on to the client is secured with 2-factor authentication using Gallagher Mobile Connect, minimizing the risks associated with compromised passwords and ensuring only permitted users can access the system.
The first release of Command Centre Web focuses on cardholder management. Cardholder Management allows administrators to view cardholder history, view activity of a cardholder, manage cards and credentials, manage cardholder access, and general personal data field management. The Cardholder Management module is great for roles such as a receptionist or administrator where an operator only interacts with cardholder requests and does not require a full workstation. Additionally, Command Centre Web allows after-hours requests to be easily actioned from wherever the operator is.
Command Centre web is a powerful tool offering many possibilities. We are committed to providing world-class security solutions to our customers and look forward to releasing further features and functionalities soon. Look out for cardholder creation, competencies, PINs and User codes, and printing and encoding coming soon!
Introduction of the SIP Integration
With the release of Command Centre v8.80 comes a SIP Integration providing flexibility for intercom integrations that work for your business. This integration allows an operator to talk to an intercom user via a Command Centre workstation machine, without requiring additional intercom hardware. This is highly scalable solution reduces the cost for businesses and ensures they are not locked into one manufacturer.
Site Plan enhancements
Command Centre v8.80 brings with it three new Site Plan enhancements including related items, rotation and orientation, and intercom controls.
Related items
This enhancement simplifies site plan configuration by reducing the number of items that need to be always visible on a site plan. Sites can now use the 'related item' feature to only show items on which they would like more detail when the item icon is clicked. This reduces the need to have all hardware items visible, minimizing the clutter and complexity of a site plan.
Rotation and orientation
This improvement enhances the operator's experience so that when viewing a site plan, they can rotate it making it easier for operators to communicate navigation instructions relative to their seated position.
Intercom controls
Intercom controls have now been added to Command Centre Site Plans Viewer. These enhancements allow Site Plans to be customized to ensure the operator has the best possible view when using Site Plans. The Site Plan provides location contextual awareness, helping an operator understand exactly where an intercom is located on site and an awareness of activity in that immediate area. It also provides information that may be needed to direct someone whether a guard or someone unfamiliar with the area they are entering.
GovPass enhancements
GovPass is a credential specified and developed for the UK government to enable government employees to enroll their 'single' building access pass onto other GovPass compliant access control systems. Enhancements to the GovPass credential in Command Centre v8.80 allow Government sites to reduce administration overhead and become more secure by enabling them to communicate with a centralized government issuance service.
Bulk configuration tool
Command Centre v8.80 brings significant updates to the Bulk Configuration Tool that allows for a wide range of Command Centre items such as doors, alarm zones, controllers, HBUS I/O, and inputs to be imported in bulk from a CSV file into Command Centre. This enhancement saves significant time and data entry when setting up new sites or loading large amounts of hardware to an existing site.
Added support for third-party access solutions
Command Centre v8.80 also brings enhanced support for third-party access solutions such as REST API's, Schlage AD, and Schindler system improvements.
Various enhancements to REST APIs provide sites with improved visibility of who made which calls allowing for better reporting and auditing. Other improvements to REST APIs enable users to redact personal info for those that want to do their own redaction application. This enhancement also supports customers to meet their GDPR requirements.
Enhancements to the Schlage AD series provide increased flexibility and options to customers using the AD series locks. By introducing new door mode functions in 8.80, customers can choose between the different modes and the hardware behavior will change based on the mode selected.
In addition, the Schindler system has received significant enhancements to ensure the privacy of cardholders when sending movement events to the Schindler system. Cyber security is of top priority and these enhancements further demonstrate our commitment to data protection.

Command Centre continues to be at the forefront of security innovation with this release. With these new features and enhancements, Command Centre will help you manage your site easier, faster, and more efficiently. Contact us today to learn more about Command Centre and how it can benefit your business.