Protecting assets and data
Effectively protecting critical sites is essential in ensuring the safety of the public and enforcing government laws and regulations.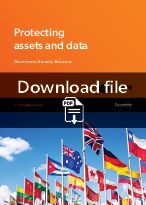 Gallagher security provides three key benefits to Government departments.


Keep people safe
Gallagher's security solutions allow operators to respond swiftly and accurately during critical events such as a fire or active shooter threat – providing peace of mind that your site is a safe and secure environment.
Ensure people only have access to areas they are qualified to be in by granting access based on enrolment of HR information.
Secure your site quickly with the push of a button to notify staff when an incident occurs.
Identify, locate, and respond to potential risks on site in real-time, enabling a swift and accurate response.
Create an open yet secure environment that keeps visitors and contractors safe on site.
Optimize facility use
Gallagher Command Centre, the powerful software at the heart of our integrated security solutions, allows you to efficiently manage a distributed site with multiple buildings, and requirements, all from one central system.
Reduce operational costs, energy use, and utility costs with Gallagher's integrated security solutions.
Manage car parking from one central system.
Distribute access card or mobile app credentials prior to enrollment so students are automatically granted access on arrival.
Ease administration with simple automated, customizable reporting.
Reduce your cyber risk
A cyber breach of your security system could have far reaching consequences. Gallagher's solutions are designed to mitigate the risk of cyber-attack and protect your data.
Reduce potential cyber security risks through Gallagher's end-to-end encryption and user authentication.
Identify potential vulnerabilities within your system using Gallagher's Security Health Check.
Stay up to date with regular software updates.
Reduce the risk of cyber-attack with Gallagher's in-built cyber security product development philosophy.
Simplify data management and protect data integrity by integrating systems and storing data securely.
Stay up to date with Gallagher
Get the latest Gallagher news, updates, and event information delivered straight to your inbox.