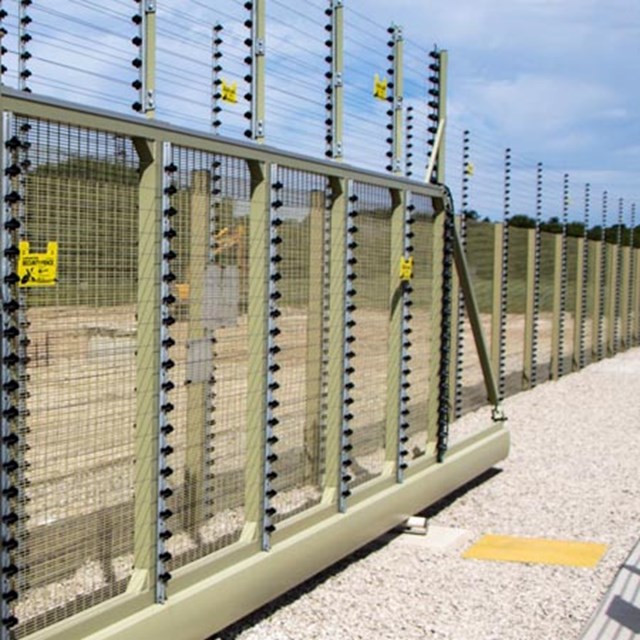 The challenge
With the ability to power over 590,000 UK homes from a total capacity of 660 MW, Walney Extension is set to be the biggest offshore wind farm in the world when it is commissioned at the end of 2018.
The new onshore substation covers an area of reclaimed marsh land and required an innovative perimeter and internal fencing package to be designed to offer the highest levels in security and electrical safety. Design work started in 2017 and looked at how existing fencing systems could be used to create a bespoke solution.
Protecting critical national infrastructure in the utilities industry presents a number of challenges:
External perimeter to offer guaranteed delay against attack
All fencing to be earthed or offer non conductive features
Internal fencing to include multiple systems including rigid mesh and GRP in same fence line
External perimeter and access control to be compatible with monitored pulse fencing (electric fencing) to meet security requirements
Internal fencing to be base plated
The Gallagher solution
The substation installed five systems in total from the CLD Fencing Systems range of rigid mesh fencing and security gate solutions and combined this with a Gallagher Monitored Pulse Fence to add an extra layer of security to the site.


The business value
The Gallagher solution provides reliable detection and prevention of unauthorized access to the site, protecting the public from accidental or intentional entry to the site.
The solution ensures operational continuity, avoiding significant costs associated with loss of supply, while protecting the site's assets from theft and damage.
The system has been so successful that they want to use the same solution for all its electrical substations.


Fast facts
Industry: Utilities
Challenge: To protect an onshore substation for the largest offshore wind farm in the world.
Technology: Gallagher Monitored Pulse Fence
Our team on the ground
Need a hand? Let us put you in contact with one of our local business development managers.
Stay up to date with Gallagher
Get the latest Gallagher news, updates, and event information delivered straight to your inbox.