Melco Resorts and Entertainment - City of Dreams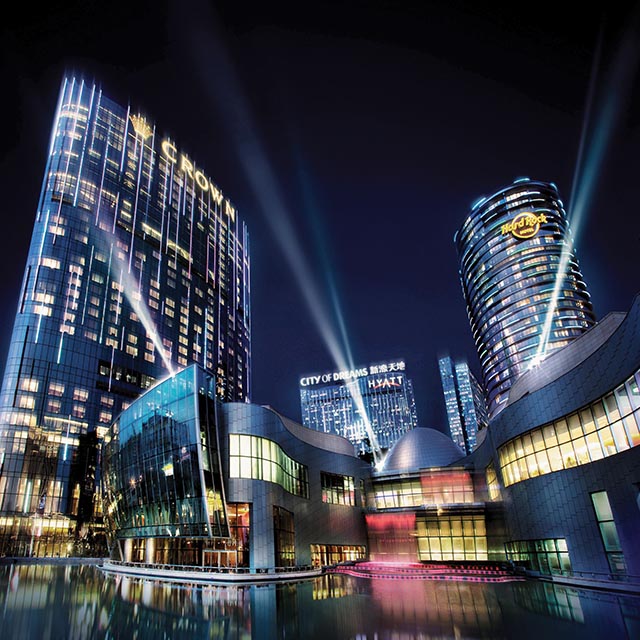 The challenge
In mid-2009, Melco Resorts and Entertainment Limited opened City of Dreams, Macau, a casino and resort complex that quickly become one of the world's premier entertainment and leisure destinations. With a large site encompassing multiple areas and a staff of approximately 13,000, Melco Resorts required a robust security solution capable of protecting high-value assets, while providing a reliable and flexible system to support daily operations. Key objectives included the ability to manage multiple properties from a central command structure; delivery of a one-card philosophy across three complexes for all system requirements, including high security; efficient and reliable access control for effective people management; and future-proofed systems to cater for growth.


The Gallagher solution
Gallagher worked directly alongside Melco Resorts and security partner Certis Security (Macau) Ltd during the design and construction phases of City of Dreams. Utilizing MIFARE Classic card technology, 1,700 access controlled doors were set up across the complex. Gallagher's ability to encode access cards with data from multiple system providers was crucial in delivering on the one-card philosophy. Additionally, Gallagher's multi-server technology delivered seamless connection between all systems and across all sites. When the City of Dreams site required integration with a number of external systems, Gallagher's Command Centre central management software provided the platform to deliver this, including CCTV, electronic key management, in-house elevator systems, human resources system and hotel guest locking integrations.


The business value
Having thousands of staff moving around the site means effective people management needs to be a significant part of the security solution. The Gallagher system provides rapid response times to access requests, ensuring the efficient movement of people in and out of areas and instant dissemination of cardholder access and configuration data. Integration between the City of Dreams Human Resources (HR) system and Command Centre ensures basic personnel information is automatically communicated, making the process of updating cardholder information and assigning access to cardholders a quick and simple procedure. The multi-server system has also resulted in reduced labour costs, due to the consolidation of security administration.


Fast facts
Industry: Entertainment
Business type: Casino and Resort
Site size: Altira Macau - 5,230 sqm City of Dreams Macau - 113,325 sqm
Number of doors: 1,700
Current cardholder database: 44,000
Number of employees: approx. 13,000


Gallagher technology used
Our team on the ground
Need a hand? Let us put you in contact with one of our local business development managers.
Stay up to date with Gallagher
Get the latest Gallagher news, updates, and event information delivered straight to your inbox.