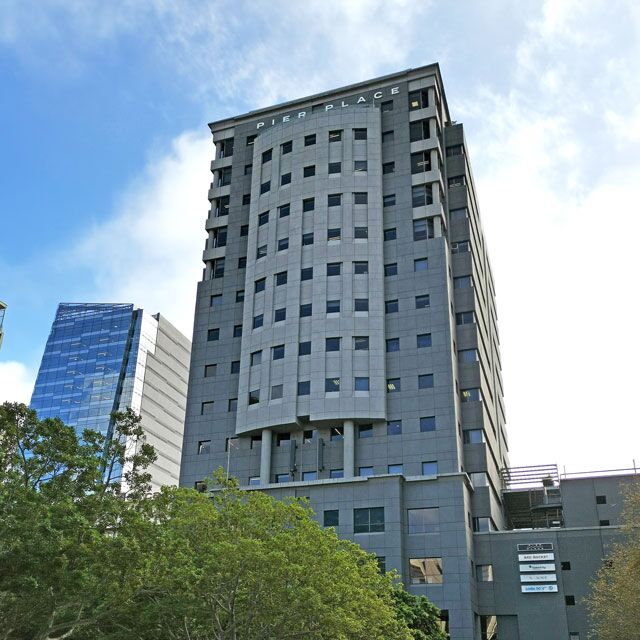 The challenge
Pier Place is a vibrant multi-tenant office building in the heart of the Cape Town Foreshore, overlooking scenes of the beach, with a slice of South Africa's famous Table Mountain in view. With 15 floors, ARIA Property Group sees more than 800 office workers, contractors, and visitors, from 14 different companies, going through their doors each day. ARIA Property Group sought to overcome the unique security challenges of a shared office building with robust access control to ensure a safe and secure environment for all.
The Gallagher solution
ARIA Property Group decided Gallagher was the best access control solution to deliver secure site management. Gallagher's Command Centre software platform was installed, along with security cameras at the critical entry and exit points, creating a virtual barrier around the building that has 24/7 monitoring.
According to ARIA Property Group, Gallagher's solution provides effective security in an unobtrusive manner. People simply badge their access cards to a reader mounted next to each access-controlled door or turnstile.
With comprehensive access control in place, ARIA Property Group can operate with minimal fulltime security personnel on site. Three guards are situated on site 24/7 covering each of the external entry points, and a third-party tactical response team is on standby should a larger security situation unfold, or support is needed outside of business hours.
The business value
Jacques Jordaan, Operations Manager for Pier Place says the largest security issue for the building is vagrants trying to gain access to the building. "If anyone were to slip into the building, they wouldn't be able to gain access past reception. This is where we see the true value of access control – it stops unwanted intruders from accessing the tenanted floors and helps security staff apprehend these people quickly…," says Jacques.
Jacques can rest easy knowing who goes where and when. "When you have a number of tenants' assets to protect – workers' safety, tenants' intellectual property, and the equipment on each floor – it's absolutely essential that we can monitor and manage people's movements throughout the building.
ARIA Property Group's Gallagher access control solution is fully scalable so it can grow alongside their security requirements. In the future, ARIA Property Group has the option to integrate its CCTV and Visitor Management System, so that a full audit trail of access and security events can be maintained. Additionally, they can look to integrate their Building Management Systems when the time is right.
"Our reputation with our tenants is enhanced as they recognize that we're taking all possible steps to ensure that their people and assets are protected," says Jacques. "The Gallagher system is straightforward and easy to use - with its endless integration possibilities, I'm sure we will expand our solution in the future."
Our team on the ground
Need a hand? Let us put you in contact with one of our local business development managers.
Stay up to date with Gallagher
Get the latest Gallagher news, updates, and event information delivered straight to your inbox.