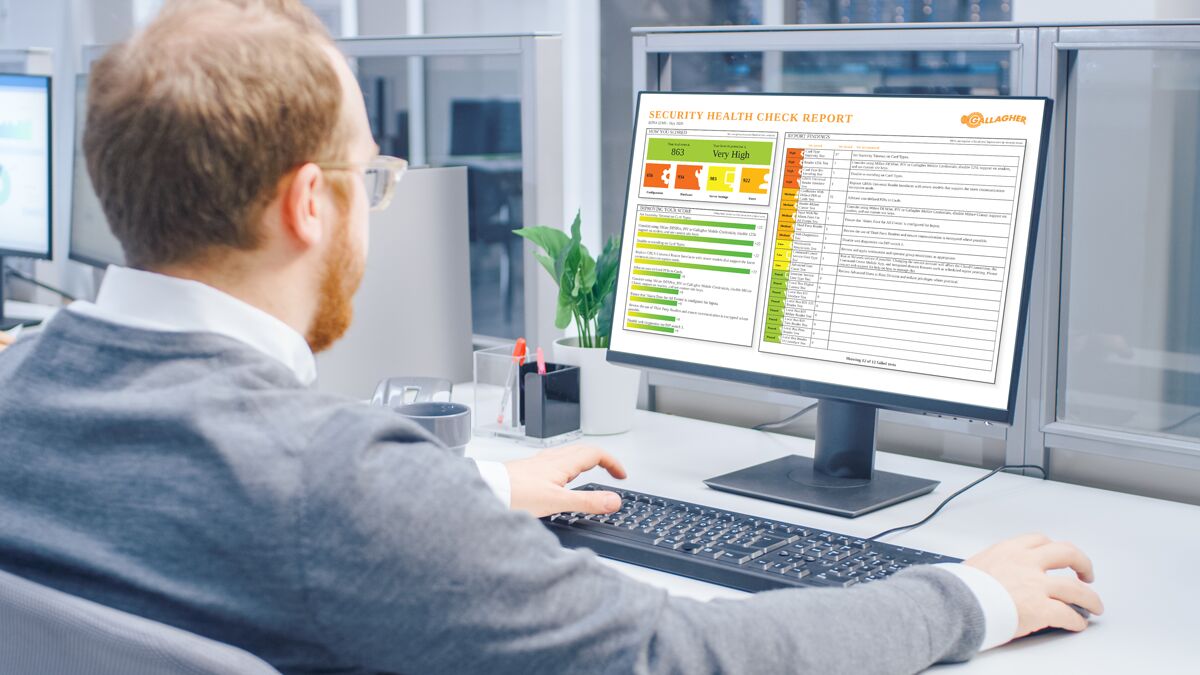 People worldwide are finding new ways to prioritize their health and well-being. We've moved well beyond the occasional visit to the doctor to apps that track our activity and guide our nutrition and watches that monitor our heart rate and stress levels. More than ever, our health is in our hands.
With increasing concern over cyber security and the potential unknown vulnerabilities that may exist within an organization, there is a growing need to proactively address the threat of cyber-attack.
We've carried the same self-help approach we apply to our personal well-being, through to cyber security, when we created our industry-first tool, Security Health Check (SHC).
This powerful tool aims to empower businesses to manage their cyber security, their way by equipping them with information to quickly understand and address cyber vulnerabilities and ensure secure system configuration, ultimately bringing confidence and peace of mind.
What is Security Health Check?
At Gallagher Security, we're regularly asked to undertake audits of Gallagher systems. This need highlighted an opportunity to create an automated solution that removed the cost and dramatically improved the time involved in assessing cyber risks within a system.
Security Health Check is an industry-first tool that performs a fast, automated audit of potential security issues. Putting the power in the hands of businesses, Security Health Check provides sites with a deeper awareness and understanding of security vulnerabilities and how they can be mitigated without the time and cost of traditional manual audits.
How does Security Health Check work?
The Security Health Check process is designed to be quick and easy for businesses to use. The process involves three simple steps:
Download the Security Health Check utility from our website
Run the utility and view detailed test results with their severity all in the same window
Upload the results and receive the executive report within seconds
This streamlined process allows you to stay informed about the security of your system without any wait time or manual audits.
Sites with servers that are restricted from the internet can still receive a report. These sites simply need to save the results after running the utility and generate the report on another client with internet access. Report generation does not require a cloud connection to be configured on Command Centre.
What are the benefits of Security Health Check?
There are several benefits of Security Health Check, including:
Reduce manual effort of cyber security audits
Identify and understand potential cyber vulnerabilities
Recommendations to configure systems for optimal security
Ensure compliance with cyber security standards
Track cyber well-being
Reduce manual effort of cyber security audits
One of the major benefits of Security Health Check is the dramatic reduction in time involved in proactively assessing cyber risks within a system. The executive report enables security teams to quickly and easily identify vulnerabilities and allocate the required resources to ensure their system is as secure as possible.
By reducing the manual effort involved in traditional audits, businesses can conduct more frequent and reliable system check-ups, reduce administration time and costs, and save their organization from potentially costly data breaches.
Identify and understand potential cyber vulnerabilities
With our personal health – identifying and resolving issues before they become a bigger problem is encouraged, and it is no different with cyber health. By utilizing Security Health Check, businesses can take the first step towards ensuring the cyber well-being of your system and identify and understand potential cyber vulnerabilities with ease.
The SHC executive report identifies system vulnerabilities, assesses the severity of the threat, and provides clear and actionable recommendations to mitigate any identified risks and ensure secure system configuration. With this knowledge, businesses can prioritize resource allocation to address the most critical risks first and be prepared to respond to any emerging vulnerabilities.
Configure your system for optimal security
Another benefit of Security Health Check is ensuring secure system configuration. By automating the auditing process, the tool allows you to proactively manage cyber risks before they become a problem. It can identify legacy and unsupported hardware, check system configuration, and ensures data transmissions are secure with encryption and authentication between devices. Additionally, the tool allows you to monitor user passwords to ensure they are not blank, default, or predictable.
For project managers, Security Health Check is a valuable tool to demonstrate a complete, successful, and secure system setup for new or upgraded sites, providing customers with peace of mind knowing their system is as secure as possible.
Ensure compliance with cyber security standards
As regulations, laws, and standards evolve to keep pace with emerging cyber security issues, businesses need to know when this type of change results in a new vulnerability. Security Health Check is constantly updated with the latest changes, so you can stay informed about any new vulnerabilities and take action to address them.
For businesses that need to comply with government cyber security standards like ISO accreditation or CAPSS, Security Health Check provides additional recommendations to ensure compliance. Plus, the report can be used to demonstrate compliance with government and industry standards.
Track cyber well-being
Similar to how we might track our exercise to see the gains we are making in our health and fitness, Security Health Check provides all the data you need to track the state of your security system over time to ensure your overall score is improving.
With recommended solutions for improvements included in the report, you can effectively plan system upgrades, track progress, and proactively protect your business against threats.
How often should businesses run a Security Health Check?
To keep your business safe from cyber threats, it's important to regularly conduct a Security Health Check. We suggest doing this every six months to stay up-to-date on the latest system updates and vulnerabilities.
Additionally, when implementing a new system, upgrading to a new version, or making changes to your site, make sure to run a Security Health Check to confirm your system is configured for optimal security. This will give you peace of mind and help protect your business from potential security breaches.
Does Security Health Check share sensitive data?
At Gallagher, data security is of the utmost importance. We are proud of the many regulations, standards, accreditation's, and awards earned by being an industry-leading, cyber security-responsible vendor, including ISO27001, CAPSS 2021, EN50131-4, and SOC 2 Type 2.
To ensure that sensitive data is protected, we've taken extra measures. The Security Health Check summary result file, on which the executive report is based, does not contain any detailed site data such as operator names or names assigned to controllers. If an operator attempts to upload a detailed results file, our system will automatically detect this and reject the file. Additionally, operators can manually review the result file and ensure no sensitive data is shared before submitting it.
For sites with in-house expertise, the results file can be used without generating an executive summary report.
How much does Security Health Check cost?
Security Health Check is free of charge to all licensed Gallagher customers. It is designed in keeping with the philosophy that the best defense for cyber security is the proper knowledge and tools to identify and remedy potential vulnerabilities.
Which Command Centre versions support Security Health Check?
Security Health Check is tested against the latest 10 versions of Command Centre and may still run on earlier versions. However, any new tests or modifications to existing tests won't be validated against versions of Command Centre prior to the last ten versions.
In today's world, taking care of our health is paramount, and this includes our cyber security. With Security Health Check, you can identify, understand, and mitigate vulnerabilities and ensure the security of your system. With just a few clicks, businesses of all sizes can take control of their security and protect themselves from potential cyber threats.
Contact us today to learn more about Security Health Check and manage your cyber security, your way.