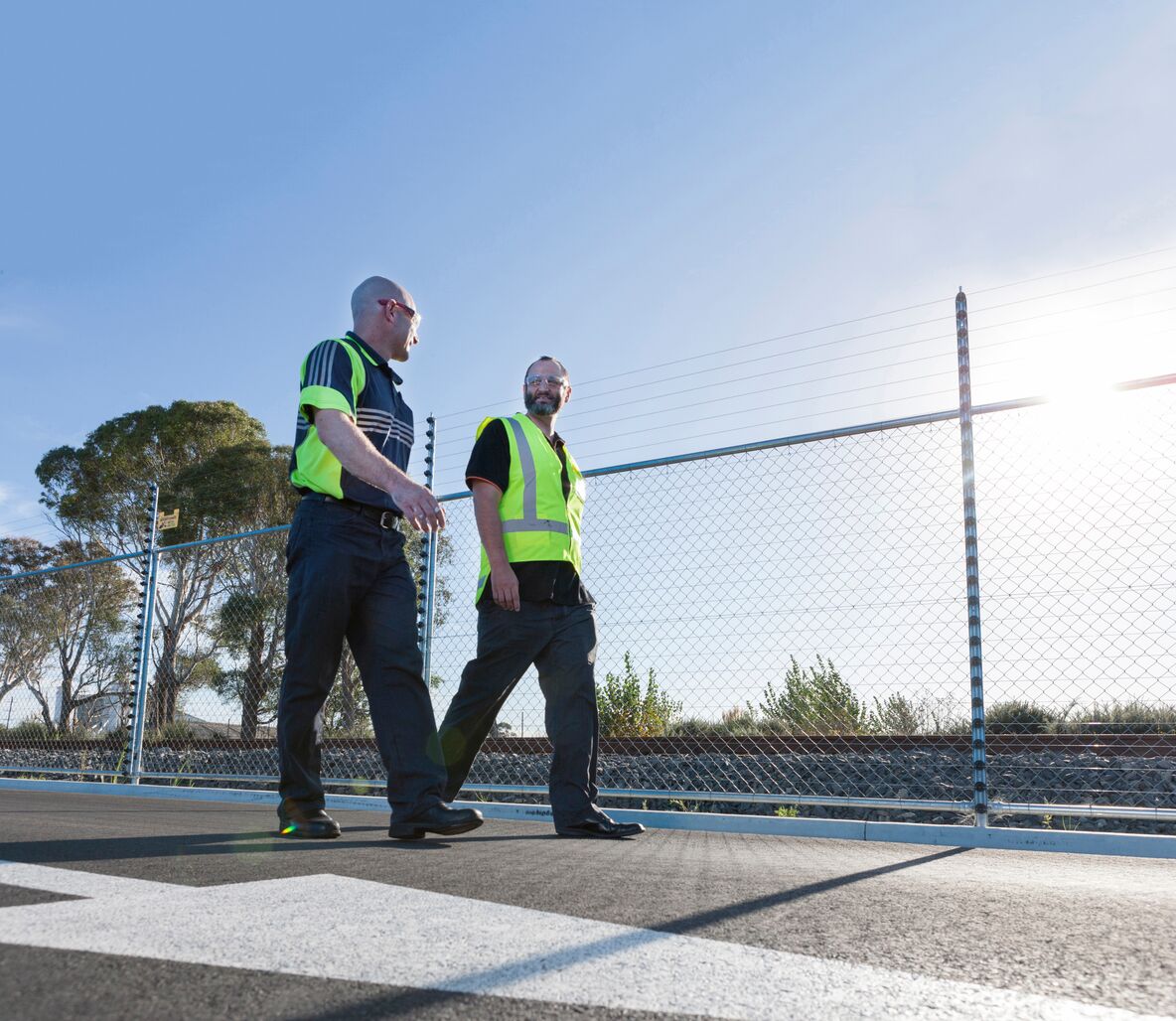 Protecting the perimeter of your business is essential to enhance physical security. Implementing the right layered defense system can help reduce security risks and keep your people, premises, and assets safe. Discover what perimeter protection is and how it can help secure your business.
What is perimeter protection?
Like access control in a building, perimeter security is a form of access control for your business boundary, managing the flow of people or assets around a site and allowing entry to those with authorization. It is vital for securing your business, particularly in high security industries, and preventing unauthorized access to your premises. Perimeter protection involves creating a barrier using various detection and deterrence methods, such as monitored pulse fencing, surveillance cameras, intruder alarms, and other protective measures. When layered together, these technologies effectively defend against outsiders attempting to gain access to your site without permission and help create a more secure environment for your business.
Why is perimeter protection important?
Perimeter protection is the first line of defense against unauthorized access to business premises. It can provide detection and deterrence, alerting the business and emergency services to potential security threats while delaying and preventing any loss or damage due to burglaries or other criminal acts. A robust perimeter security system is essential to protect your site from criminal threats, especially in critical and high security sectors.
These critical sites include multiple national infrastructure sectors that a government has decided are crucial – where disruption would seriously impact the nation's security, people, economy, or public health. Thousands of critical national infrastructures, including communications, emergency services, sanitation, energy, food, government, healthcare, critical manufacturing, and defense facilities, deliver essential services in very different ways, but one aspect that unifies them all is the critical importance of securing their operation from potential attack and disruption.
Layering perimeter protection systems alongside other physical security measures is important to create an effective security ecosystem for businesses, ensuring the safety of people and assets.
Understanding the benefits of a perimeter protection system
Before investing in perimeter protection for your business, it's important to understand the benefits. A well-installed perimeter protection system has three key factors: prevention, detection, and management. If your site incorporates these elements, you are empowered to deter, detect, and delay any intrusion attempt.
Deter
Effective perimeter fencing should discourage people from attempting to gain unauthorized access to your site. This could be through the use of signage, physical barriers, or technologies such as monitored pulse (energized) fences.
Detect
Detecting an attack or an authorized access attempt as early as possible enables your site to carry out an appropriate security response. Sites can employ disturbance or vibration sensors, tension sensors, energized fences, optical fibre detection, acoustic sensor cables, buried sensors, and CCTV to detect unauthorized access.
Delay
The key element of the three D's is to combine the appropriate technologies in a way that will delay any unauthorized access attempts for as long as needed to activate an effective security response. Perimeter solutions provide the appropriate delay time for security patrols to respond to a potential attack due to detection occurring as soon as an attempt is made to enter a site's boundary.
How to protect a perimeter
The most vital step towards effective perimeter protection is getting the right measures in place. To be effective, a business will need to create a combination of physical, cyber, and personnel security elements that work together to form a layered defense system. This means using multiple security measures designed to deter, detect, and delay different types of threats.
There is no 'one size fits all' perimeter solution. Each site presents its own unique challenges including, environmental extremes, size considerations, site geometry, and varying intruder behaviors. The operational requirements of a site also need to be considered to determine the best combination of technologies to secure the site.
Selecting the optimal combination of technologies will impact the success of the system. Combinations of perimeter protection products can include access control systems, motion sensors, surveillance cameras and alarms, physical barriers such as fences or walls, and regular patrols. Implementing a perimeter protection solution ensures the entry points into your business are secured from intruders, making it much more difficult for them to gain access while ensuring any breaches are detected quickly and dealt with efficiently.
Types of perimeter protection solutions
Layered defense solutions typically begin with a physical system, such as monitored pulse fencing, bollards, and barriers that create a deterrent to potential intruders. Other physical elements can include signs warning of cameras or other security measures and locks placed on gates and other areas to limit access.
Electronic security solutions such as disturbance or vibration sensors, tension sensors, energized fences, optical fibre detection, acoustic sensor cables, buried sensors, CCTV cameras, and alarm systems are also included in many perimeter protection strategies to help detect any suspicious activity or break-ins in real time.
Finally, some of the most critical or regularly targeted sites employ security personnel to monitor the perimeter of a site.
Businesses often don't realize the value of perimeter protection until it's too late. By building a comprehensive and effective perimeter protection solution, businesses can protect their assets while ensuring employees feel safe and secure in their workplaces. With advancements and developments in perimeter protection technology, organizations can create an effective solution that provides a robust and reliable level of defense against external threats.
Ready to secure your perimeter? Reach out to our team today.