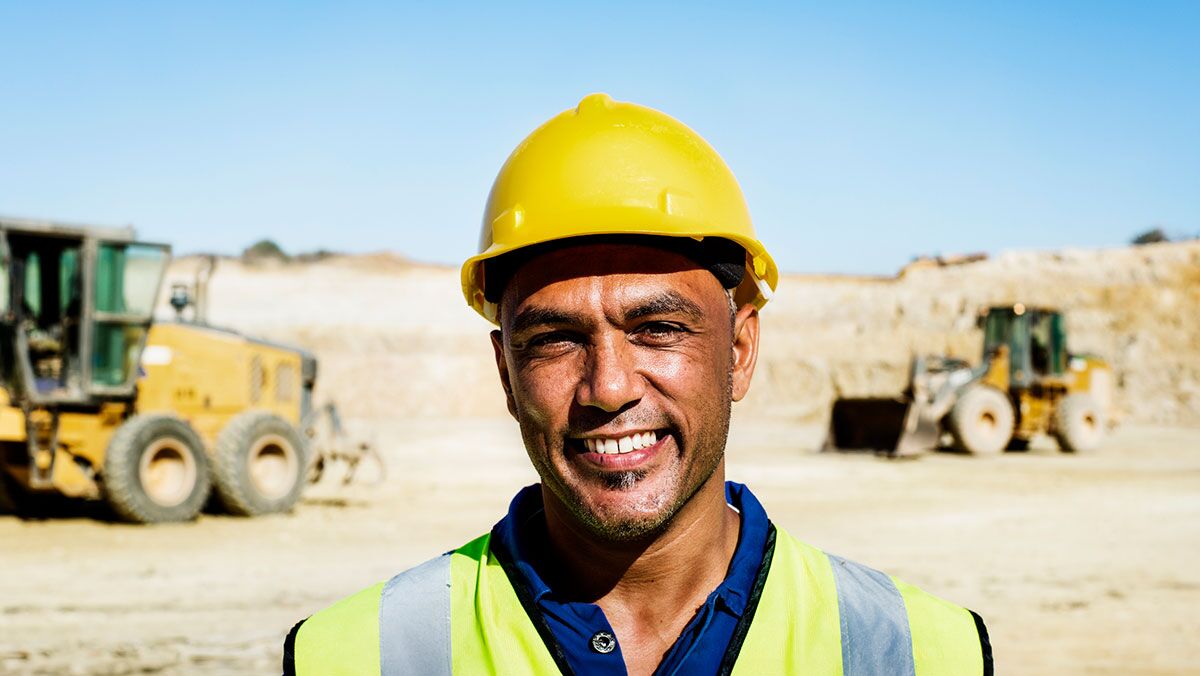 Mining is one of the most critical industries globally, often requiring significant financial investments, advanced technologies, and expert personnel. Yet, mining operations are often susceptible to increased safety and security threats. As such, mine site security has become a crucial component in mining operations globally.
To address these risks, access control and integrated security solutions have become increasingly essential for mining operators. These security solutions protect the assets of mining companies and ensure the safety of their employees and surrounding communities.
What are the security and safety challenges faced by mines?
Mining operations are some of the most critical and hazardous industrial activities and face a broad array of security and safety challenges, including trespassing, illegal mining, and mineral and equipment theft, as well as concerns for protecting worker safety and maintaining compliance with health, safety, and environmental regulations.
Effective security solutions can significantly reduce the risks mine workers and facilities face.
The importance of security in mining operations
Security is of utmost importance in mining operations due to the inherent risks and vulnerabilities associated with the mining industry. Mining sites are often located in remote areas, making them susceptible to theft, vandalism, and unauthorized access. Additionally, the presence of valuable assets such as minerals and equipment make mining operations attractive targets for criminals.
Security solutions in the resources and mining sector are also generally used to manage governance, risk, and compliance to protect the safety of workers and ensure business continuity.
Implementing effective security solutions is crucial to safeguarding the well-being of workers and protecting valuable resources.
Gallagher has a proven suite of native workforce management solutions to address these needs in mining, resources, and critical infrastructure sites.
The benefits of implementing advanced security solutions
To address these challenges, mine sites are implementing several advanced security solutions, including access control systems, surveillance cameras, vehicle and personnel tracking systems, and alarms.
These solutions provide multiple benefits, including:
Manage governance, risk, and compliance
Prevent equipment theft and damage
Enabling automation through system interfacing
The ability to keep up with changing regulations and health and safety requirements
Managing governance, risk, and compliance
Access control is commonly implemented in the resources and mining industry to regulate governance, risk, and compliance. This is done to protect workers, maintain business continuity and allow entry to authorized individuals.
To ensure safety and security, mine managers can use access control systems to manage personnel competencies to allow access to those with active qualifications and inductions for the site or within a particular area. Mine managers can also implement competencies for contractors with current insurance and an active work order to allow them entry.
In numerous countries, a worker must possess state or government-mandated licenses before working on a mining site. The level of competence required varies depending on the worker's role and location. For instance, the enforcement rules for someone working underground differ from those for someone working on the mine surface.
Worker fatigue is a significant concern for mine sites that operate 24/7, especially for those working night shifts or in hazardous conditions. To prevent workers from breaching fatigue policies during their shift, mine sites often follow stricter competency controls for these individuals.
An access control system enables mine sites to easily identify workers for risk assessments and potential personnel changes. This not only saves time but also prevents any disruptions to the site. This type of competency management (with appropriate enforcement and proactive, dynamic notifications) is particularly crucial for workers who are working underground.
Mobile smartphone devices are also commonly used to spot-check workers on-site (i.e., to validate they are trained and inducted to be where they are or performing their current task) and for mobile evacuation procedures and access control movements.
In underground mining operations, it is critical that the location of workers is known due to the elevated risk in these environments. To ensure their safety, cardholder location tracking is often utilized. This allows workers to be accounted for in emergencies and enables safe management of underground blasting.
By setting up electronic 'tagging' stations and implementing long-range tracking of personnel, control room operators can track how many people are in different locations underground and identify the area where each worker is located. This data can then be integrated into firing procedures to ensure that explosives are only triggered once all personnel are accounted for and safely in designated areas. Additionally, tagging portals provide workers with personal information and photo ID images, reassuring them that the system has accurately recorded their location as they move around during their shift.
Long-range tracking of workers can be employed in underground operations where travel is required in buses, light vehicles, or machinery. This ensures the location data can be captured without requiring personnel to exit vehicles in dangerous locations to present to a physical access point. The method of access credentials utilized for this safety data becomes extremely important as the risk of a missed movement can have real implications for personnel health and safety.
Preventing equipment theft and damage in mines
Some mine vehicles are worth millions of dollars and are costly for downtime and repairs, so monitoring and securing equipment is vital.
Asset tagging and sensor solutions onboard collision alert technology are two effective ways to protect these valuable assets. The collision alert system detects hazards in the vehicle's path and alerts drivers, preventing potential collisions and protecting worker safety. Solutions like these provide valuable data feedback in hard-to-reach areas. When integrated with access control, mine companies can ensure that only authorized personnel can operate the vehicle. Combining driver and vehicle identification further enhances security by accurately tracking who is operating which vehicle.
Driver-based automatic vehicle identification (AVI) ensures that a vehicle can never leave or access a secured area unless occupied by an authorized driver. Traditionally, drivers had to stop and present their access cards, causing traffic congestion around the gates. However, current solutions allow vehicles to activate gates up to 10m in advance at speeds up to 200 km/h. This eliminates the need for vehicles to stop, ensuring a smooth traffic flow. Such a feature is especially beneficial for mining sites, where stopping and starting heavy machinery can be disruptive.
Automation through system interfacing
Mining site operations operate around the clock and have large and complex workforces. Automation through system interfacing is highly recommended to manage the significant amount of onboarding, offboarding, access changes, and competency management of their workforce.
Commonly, this will involve interfaces with upstream systems. This could include creating multiple interfaces to accommodate the various types of entities in the system or the data that is being imported. It is typical to automate the management of these entities, their access, and their inductions, qualifications, or licenses. This is done by interfacing with systems such as Human Resources/Payroll, LMS (Learning Management Systems), Active Directory, and contractor/Workforce Management packages. Such automation can be applied to visitors, employees, contractors, and vehicles.
This interfacing reduces the amount of Full Time Equivalent (FTE) personnel required to manage the system, reduces risk of data input errors, and ensures the segregation of duties by ensuring that business policies are followed for all appropriate changes.
Mining operations rely heavily on data to identify and resolve risks and find operational efficiencies. It's, therefore, also common for external systems to extract workforce activity from the access control system for population and analytical BI (Business Intelligence) reporting.
Vendor selection for access control in resources and mining industries should therefore hold a strong importance on the interface capabilities of the system.
Keep up with changing regulations and occupational health and safety requirements
Mining operations pose significant risks, and government regulations can be strict and vary significantly worldwide. Security solutions are often used to ensure compliance with occupational health and safety regulations.
Recently, there has been a growing concern regarding fatigue and exposure and the need for reporting. Cases of corporate manslaughter against negligent management have created more interest in systems, such as access control solutions, that can demonstrate duty of care and protect workforces.
With Gallagher, cardholder information can be recorded and shared bi-directionally with existing HR/people management systems for accurate, real-time use. Staff records provide a full audit trail to ensure compulsory training and testing are undertaken. This minimizes corporate liability and enables mining companies to meet their Duty of Care. Not only do such system implementations meet those goals while ensuring business continuity, but they also demonstrate operational cost reduction through improved efficiency.
When choosing an access control vendor, it is vital to consider a system that offers governance, risk, and compliance solutions that can be tailored to meet evolving needs without requiring substantial reinvestment.
More than ever, the importance of mine site security cannot be overemphasized. Implementing effective security solutions can reduce the risks faced by mine workers and facilities and improve the productivity and efficiency of mining operations.
By working with their access control vendor, sites operating in unique conditions like that of mining can design a system tailored to their site's specific needs and ensure their health and safety requirements are met to the level they require.
Mining companies can better protect themselves against common security threats by leveraging the latest technological advancements in security.
If you would like to discuss security for your mine site, contact your local representative for trusted advice.