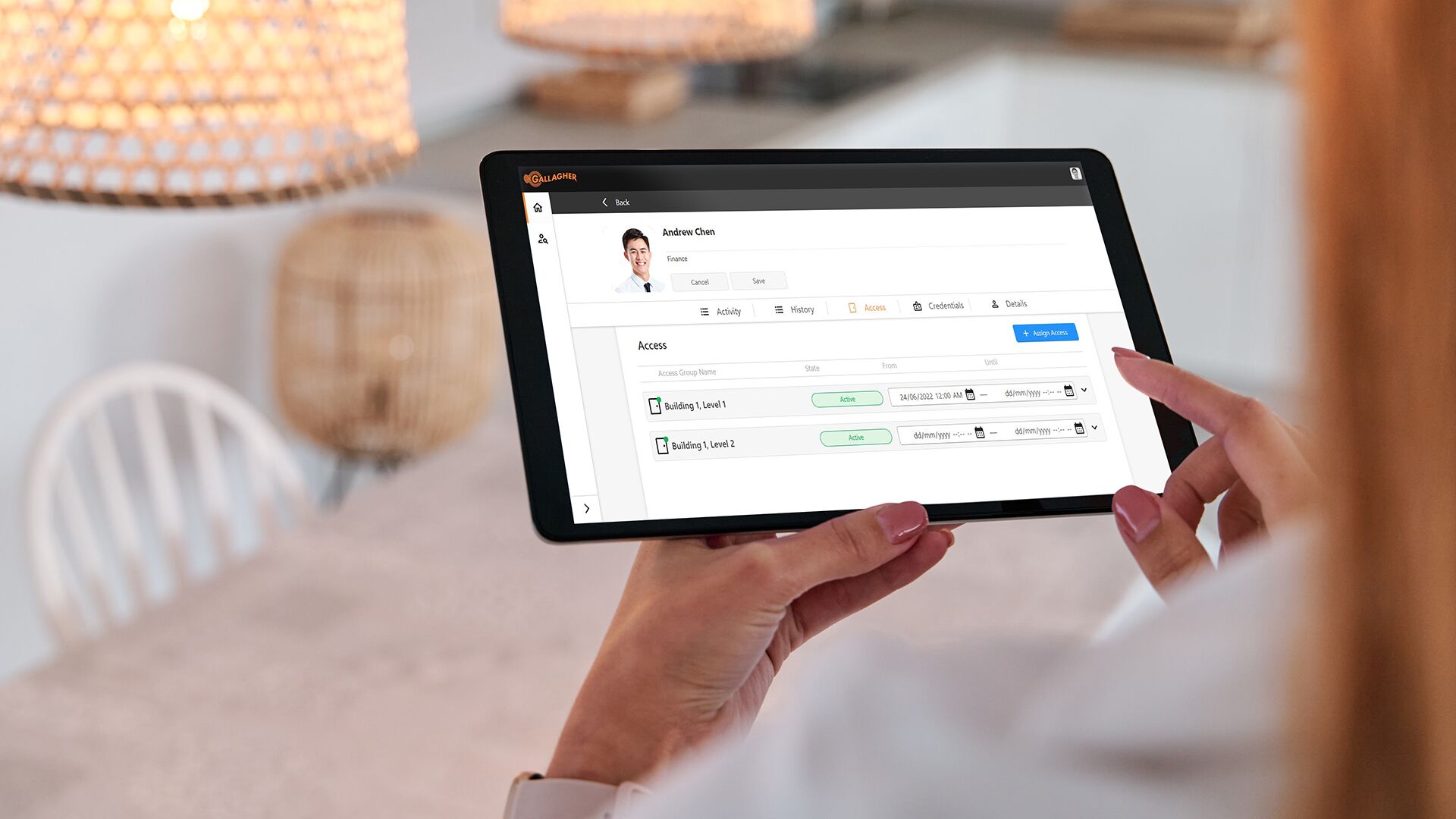 At Gallagher, we are constantly innovating to bring you the latest technology. Command Centre Web is the latest evolution in our suite of Command Centre products. It brings to market our progression into cloud technology, providing the flexibility and security to easily manage your cardholders from anywhere with an internet connection.
In this blog, we cover the features of Command Centre Web, detail cybersecurity considerations, and discuss the customer experience.
Cardholder management
Command Centre Web is the evolution of our suite of Command Centre products and provides cloud-based flexibility to customers, allowing them to perform site management tasks from any internet connected device, such as tablet or mobile, without the need to use or maintain a full Command Centre workstation. Designed to complement our existing suite of products, Command Centre Web helps to create operational efficiencies and deliver new enhancements quickly, with the added benefits of regular updates without the customer always needing to take manual action.
The first release of Command Centre Web focuses on cardholder management. Cardholder Management allows administrators to view cardholder history, view activity of a cardholder, manage credentials, manage cardholder access groups, and update personal data fields and cardholder details. Additionally, Command Centre Web allows after-hours requests to be easily actioned from wherever the operator is using their mobile or any internet connected device. This solution is perfect for reception, public guard stations, and anyone else who may need to perform cardholder management tasks but does not need to do other security-related tasks such as alarm management.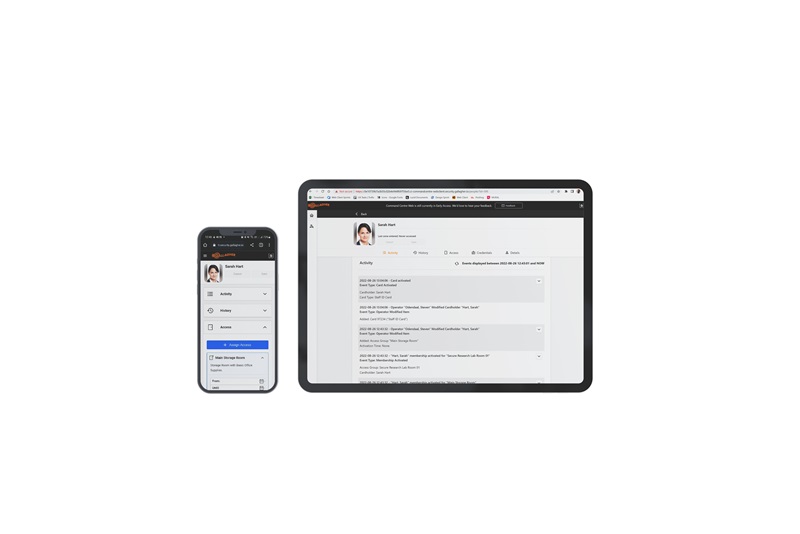 Automated updates
Being a cloud-based solution has many benefits, one of the most significant being the ability to deliver new and enhanced features regularly and quickly. As the user interface is provided from the cloud, we are able to rapidly roll out new enhancements, features, and bug fixes to customers without always having to wait for scheduled software release cycles or requiring action from the customer.
Delivering new updates and features to customers is a key benefit of a cloud-connected solution. Customers do not always need to do anything to receive new updates. The next time they log in to Command Centre Web, they'll receive any recent updates making it much easier for them to stay up to date with the latest enhancements. Command Centre Web will recognize the server version and display the compatible features. This removes some of the frustration around upgrades and minimizes incompatibilities between server and software.
Cybersecurity considerations
Gallagher has a goal of being the most cyber secure physical security manufacturer. Our solutions are designed from inception to be as cyber secure as possible. We continuously evolve our solutions to meet the changing threat at a software and physical level, building in robust cyber security at every stage and actively seek to identify possible vulnerabilities in our platforms. This ensures our customers are confident that their data is secure and protected from breaches and the ever-increasing threat of cyber-attacks. Cybersecurity was a significant consideration in the development of Command Centre Web, with threat modelling and data protection thought about in every aspect of the development.
Throughout the software development process, internal and external teams were engaged to assess where threats and risks may occur. These practices included everything from threat modelling through to security reviews, standard design reviews, using vulnerability scanners, and various automated tests. These testing processes were baked in throughout the development stages to identify, locate, and fix any potential vulnerabilities as early as the scoping and design phases.
Not only are cyber security checks and penetration testing prevalent throughout design, but several other controls also exist to ensure data security. Firstly, it is important to note that the customer's server remains on the customer's premises and under their control, no data is persisted in Command Centre Web itself. This means that customers can reap the benefits of a hybrid security architecture whereby their data remains secure on-premises, but they unlock the flexibility of cloud-technology.
Furthermore, Command Centre Web connects back to a site's on-premises server using the Gallagher API Gateway, allowing safe and secure access from anywhere there is an internet connection. The API gateway is a secure tunnel between the server and the internet connected device, without having to set up any additional infrastructure.
Additionally, log on to Command Centre Web is secured with 2-factor authentication using Gallagher Mobile Connect, minimizing the risks associated with compromised passwords and ensuring only permitted users can access the system.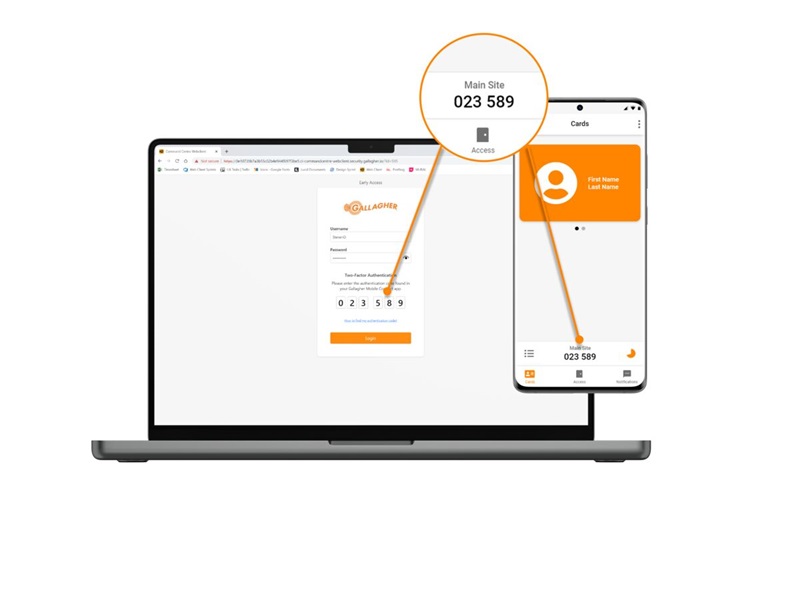 Customer experience
Designing an intuitive and user-friendly interface was a top priority when we set out to develop Command Centre Web. Creating a solution that is easy and straightforward to use was critical, so we spent a lot of time thinking about the customer experience and how people would interact with the product. We gathered feedback and analytics from current Command Centre users and conducted interviews with customers to understand the types of tasks they were commonly undertaking. In doing this we discovered some strong patterns, particularly in and around administration and troubleshooting of cardholders. We used this data to help inform our design decisions from the highest level, such as the order of the tabs, down to smaller details in workflows. As a result, we created an intuitive and user-friendly solution that is easy to navigate and we're confident our customers will love.
Enhancing customer experience is an ongoing journey, not a destination. It requires a continuous feedback loop of product analytics to capture user behaviour, which in turn helps to improve and optimise the user experience. This feedback also helps to prioritise future development of Command Centre Web, ensuring that the customer experience is always improving. By constantly listening to our customers and using their feedback to drive development, we can ensure that we are always providing the best possible experience.
Flexibility of working
Adopting cloud services and their benefits can be transformative to organisations, especially when it comes to enabling easier, flexible working. Command Centre Web does just that. Now an operator or security manager can respond to requests or troubleshoot errors from wherever they are without being physically on site or having a corporate network connected device. As long as an operator has an internet connected device, they can access Command Centre Web from wherever they are.
Command Centre Web is a powerful tool offering many possibilities. We are committed to providing world-class security solutions to our customers and look forward to releasing further features and functionalities soon. Look out for cardholder creation, competencies, PINs and User codes, and printing and encoding coming soon!