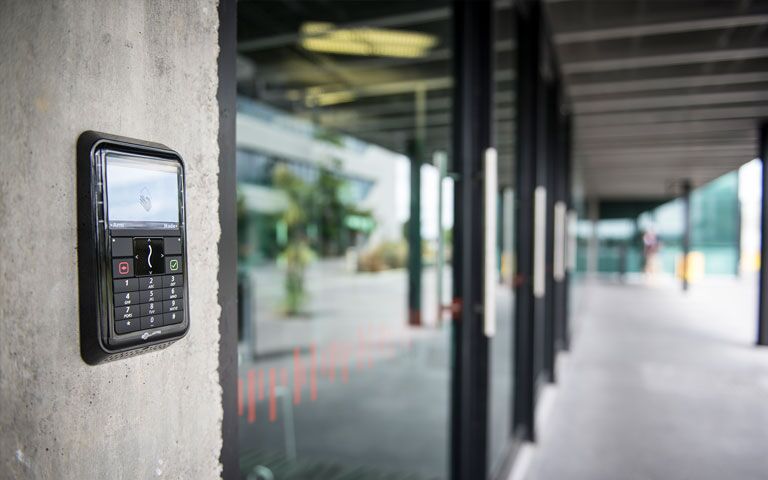 Access control systems are a fundamental aspect of security used to protect people, sites, and assets. Implementing an access control system is a critical component of security, ensuring the right people have the correct level of access to the right resources.
Physical access control systems are important for businesses who need to regulate access to sensitive data, protect people and businesses from unauthorized entry into buildings, ensure workforce compliance and safety, or to restrict access to areas that contain valuable items.
In today's world, access control has become an important aspect of security systems. Read on to understand the types of access controls, benefits of using an access control system, and the solutions Gallagher provides.
What is Access Control?
Traditionally, physical access control systems consisted of a lock and a key. This means only a person with a key can enter or lock a door. These historic types of access control came at a significant cost, being expensive and labor intensive to create. It was almost impossible for businesses to restrict the unauthorized copying of keys and ensuring outgoing staff returned their keys, to minimize security breaches.
Nowadays, businesses use electronic access control systems that consist of a reader and some form of authentication, most commonly a card or a mobile credential. Most recently, the role of electronic access control has morphed from basic access granted/denied control functions into an activity management role with sophisticated systems and techniques. Access control is now the center-point of building operations and no longer a siloed activity.
Benefits of Using Access Control Systems
Physical access control systems provide businesses and industries with a variety of benefits that improve operations and protect sensitive areas.
The benefits of using access control include:
People management
Business management
Building management
Site management
Integration capabilities
People management
Access control is an essential tool for businesses that need to manage the flow of people in and out of their buildings. Intelligent access control solutions such as Gallagher's Command Centre keep people safe with powerful emergency response capabilities, mobile access solutions and simple, effective cardholder and credential management.
In the event of an emergency, an access control system can quickly and easily block entry to certain areas and send notifications to ensure the smooth evacuation of a building. They can also be used to track the movements of people throughout a building. The Mobile Evacuation feature within the Gallagher Command Centre Mobile app allows operators view cardholders located within a monitored area and safely move them to another location, such as a muster zone. Customized actions can be triggered when a cardholder badges at a mobile reader - e.g., open boom gates automatically, or unlock turn-styles.
By managing the flow of people in and out of buildings, access control systems help businesses to create a safe and secure environment for all.
Business management
An access control system is an effective way to ensure business continuity and operational flow through the efficient management of workforce compliance and safety.
Intelligent access control software, such as Gallagher Command Centre assists organizations to monitor the length of time cardholders spend in designated areas. This helps to ensure maximum shift and exposure times are adhered to and can eliminate the risk of employees working under the influence of drugs or alcohol by randomly selecting employees for drug or alcohol testing upon arrival. As one of the few security solutions providing this feature, Gallagher Command Centre can help businesses can help create a safer work environment for everyone.
Building management
Businesses can use their access control system to take a proactive approach to manage their building and create efficiencies through integration with building management systems to reduce energy costs, identify critical faults early, and support modern work environments.
Integrations with resource booking systems allow Command Centre to identify when a room will be in use, automatically unlock the door, and turn on lights and air conditioning or heating. Command Centre's integrated building management functionality helps organizations reduce their carbon footprint and save significant costs by ensuring utilities are only operational when needed.
Site management
Site management is another significant benefit of access control solutions. This allows you to protect your people and assets with enhanced site monitoring and situational awareness, alarm management, effective perimeter security, advanced reporting, and flexible mobile solutions, all controlled from one powerful platform.
Command Centre's Site Plans provide exceptional site management visibility and monitoring for increased situational awareness across both local and remote sites. Command Centre gives security operators the tools to manage any situation that arises, all while operating within a single screen. With the ability to see activity across the site and the capability to quickly pull-up supporting information such as cardholder details, Command Centre ensures security personal can respond to incidents quickly and appropriately.
Integration capabilities
Clever integrations and technologies have provided new and different ways to keep spaces safe and secure. The way sites are now using access control for reporting and operations has really changed how individuals view their security system. It is no longer just about opening and closing doors. It is now about understanding why the door is open, why you are letting people through that door and granting them access, and what else needs to happen while they're going through that door.
Types of Access Control
There are four types of access control:
Discretionary access control (DAC)
Mandatory access control (MAC)
Role-based access control (RBAC)
Attribute-based access control (ABAC)
Discretionary access control (DAC)
A discretionary access control system (DAC) is a type of security that allows users to control who has access to certain areas or resources. In this type of security, access is given based on permissions or lists and is usually controlled by the owner of a company.
Mandatory access control (MAC)
Within a mandatory access control (MAC) systems people are assigned a label that determines their level of access to areas and resources. In this type of access control typically one person is given authority to establish access permissions for the entire organization, such as a Chief Security Officer.
Role-based access control (RBAC)
A role-based access control (RBAC) model works by assigning roles to users and then regulating what information those users can see or areas they can access based on their role. In RBAC systems, access is assigned by the system administrator.
Attribute-based access control (ABAC)
Attribute-based access control (ABAC) is a method of controlling access to resources, data, or areas of a building based on attributes of a user such as their job title, location, or department in which they work. ABAC is typically the most flexible of the access control types and is increasingly being adopted by organizations.
How Access Control Systems Work
An access control system consists of two main components: hardware and software. Hardware includes the physical components such as access cards, controllers, and readers. While software allows you to assign credentials allowing people to have the correct access to specified areas.
A typical access control system uses a combination of hardware devices. At the very basic level when someone waves their access card or mobile credential over the reader, it sends a message to a controller, which then authenticates the credential using two factor authentication to verify that the user is authorized to enter, if they are, the controller sends a signal to the door lock instructing it to open.
What Access Control Solutions Do Gallagher Provide?
There are many access control vendors and devices available on the market with their various strengths and weaknesses. Gallagher offers a range of flexible, integrated access control solutions. Command Centre goes well beyond traditional access control with advanced features and modules to keep people safe. For those who need it all our systems have advanced high security features as the basis for our standard platform, delivering access management solutions designed to protect what is important to you. With a variety of extensively developed tools and technologies, the opportunities are virtually limitless for Gallagher solutions
Security Management System
A security or site management system is the application used to load permissions or 'access' to rooms, buildings, and areas of a site. Gallagher Security's award-winning solution, Command Centre, is a powerful security management system designed to help you easily and simply manage access control on your site.
Fully customizable to suit the unique needs of your site, Command Centre allows you to configure, manage, and report on all aspects of your system.
Security for small to medium businesses
Gallagher security for SMB is a cloud-based solution, allowing you to manage your security from anywhere, at any time. The system requires no on-site server, or dedicated security staff. It is automatically kept up to date with the latest firmware, security updates, and functionality.
The Gallagher SMB app has been designed specifically for businesses requiring simplified security management, anywhere, anytime.
Hardware and Devices
Gallagher Security offers a range of secure access control hardware including, card readers, controllers, HBUS Modules and I/O Devices, and cabinets.
Gallagher delivers a complete access control platform with a product architecture that extends from powerful software to robust and reliable hardware. Connected via information networks, all components synergize to provide any site with a scalable security solution that is consistently effective.