Keeping people safe
The security needs within the healthcare industry are complex. Not only must healthcare providers ensure the safety of staff, patients, visitors, and contractors, but they also need to keep sensitive equipment and medication secure, whilst maintaining strict health and safety protocols. Gallagher understands these challenges and is proud to be supporting and securing healthcare facilities world-wide.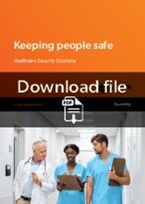 Keep people safe
Gallagher's security solutions help keep people safe on site with intelligent access control management that provides a seamless experience for cardholders and enables operators to respond swiftly and accurately to critical events.
Control access to restricted areas such as medicine cabinets, surgical theaters, and storage facilities, and automatically lock patient rooms when not in use.
Secure your site quickly with the push of a button to notify staff when an incident occurs.
Identify, locate, and respond to potential risks on site in real-time, enabling a swift and accurate response.
Create an open yet secure environment that keeps visitors safe on site.
Enhance security using our comprehensive mobile solutions.
Ensure compliance
Gallagher solutions help you meet health and safety requirements on site with confidence.
Identify cardholders who have shared an area simultaneously with a cardholder who has tested positive for an infectious virus with the Proximity and Contact Tracing report.
Undertake evacuations quickly and efficiently.
Create comprehensive audit trails for internal and regulatory audits.
Optimize facility use
Gallagher Command Centre enables you to efficiently manage multiple sites and buildings, each with different requirements, from one centralized system.
Reduce overheads and manage energy consumption through integrated heating, cooling, and lighting systems.
Manage staff parking lot access, assignment and occupancy.
Ease administration with simple automated, customizable reporting.
Protect assets and data
Fully customizable to suit the unique needs of your site, Gallagher's software and access control solutions are continuously developed to protect valuable, sensitive assets, and give you the strongest protection against the threat of cyber-attack.
Lock or unlock rooms based on scheduled bookings.
Secure belongings with agile locker solutions.
Control access to restricted areas and assets such as medicine cabinets or server rooms.
Reduce cyber security risks through Gallagher's end-to-end encryption and user authentication.
Identify potential vulnerabilities within your system using Gallagher's Security Health Check.
Stay up to date with regular software updates.
Reduce the risk of cyber-attack through Gallagher's in-built cyber security product development philosophy.
Scale your security
Gallagher's solution delivers comprehensive yet flexible security with the ability to easily scale your solutions, while remaining centrally managed, in-line with future growth in patient and staff numbers or site expansion.
Operate multiple, dispersed sites from one central system.
Reduce costs during upgrades with the flexibility to use existing cabling infrastructure.
Integrate solutions
Designed to integrate seamlessly with a wide variety of systems and hardware, Gallagher's Command Centre software streamlines security operations and provides complete oversight from a single platform.
Integrate with a wide range of third-party hardware, including contactless options.
Customize your system to create a solution specific to your site and your business requirements.
Stay up to date with Gallagher
Get the latest Gallagher news, updates, and event information delivered straight to your inbox.