Training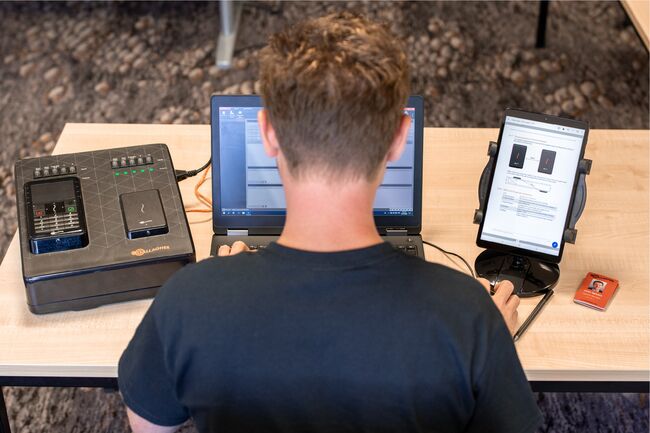 From our product development and production through to installation and operation, we are committed to delivering outstanding quality. Created by our highly skilled training team, Gallagher's training solutions have been developed to certify Gallagher Channel Partners to ensure technicians carry the skills and knowledge necessary for system design, installation, and maintenance of Gallagher solutions and to give Gallagher end-users the ability to harness the full power of Gallagher Command Centre. We have a range of courses and training options available, giving you the flexibility to train your way.
Classroom training
Our classroom training offers attendees face-to-face training with one of our knowledgeable trainers, small class sizes, hands on experience with Gallagher product, and real-world scenarios. Our courses run all over the globe with dedicated training resource on the ground in New Zealand, Australia, USA, Asia, and the UK. We can also deliver a tailored training solution to meet the individual requirements for your organization.
SPOT – Security Portal for Online Training
Our online portal provides certification and re-certification options that can be completed from either home or office. The courses have been developed by our Gallagher online training team and are full and comprehensive equivalent versions of the in-person trainings. SPOT offers the flexibility to complete the course at a time or place that fits your schedule.
Virtual training
Our newest offering, virtual training gives you all the benefits of our classroom training; with hands-on experience with our products and small class sizes facilitated by one of our Gallagher trainers, but with the added value of joining the training remotely. Currently only available in Australia.
Training Top Tips Webinars
We have recorded a series of webinars that provide top tips about using a Gallagher system. These webinars are hosted by our training team and are available for Channel Partners and end-users. Our live webinar topics include viewers, reporting, operator groups and access groups, site plans operation, creation, configuration, and much more. Watch previous Top Tips webinars now.
Gallagher Certified Channel Partners
Gallagher's Channel Partner training gives our partners the skills and knowledge necessary to design, install, commission, and maintain Gallagher solutions. Gallagher Channel Partner technicians are required to be certified before working on Gallagher products and solutions.
Certification not only ensures technicians remain current with the latest Gallagher technology, but also provides potential customers with verification of our channel partners' technicians skills, expertise, and commitment. There are a range of courses available for Gallagher Channel Partners covering both access and perimeter solutions. Certified Channel Partners can view the schedule, course outlines, and book training all through the Gallagher support site.
Gallagher End-Users
We are driven every day to design, develop, and manufacture world-leading technology that simplifies people's lives and we want all our customers to experience the most out of what our solutions have to offer. We offer a range of training courses that are designed to empower you to get the most out of your Gallagher. Find out more about Gallagher's end-user training offering here.
Do you need further information?
To discuss your training requirements or find out more about training in your region, please contact your local training department.
New Zealand and rest of world
E security.training@gallagher.com
Australia
E training.au@security.gallagher.com
UK Europe
E training.uk@security.gallagher.com