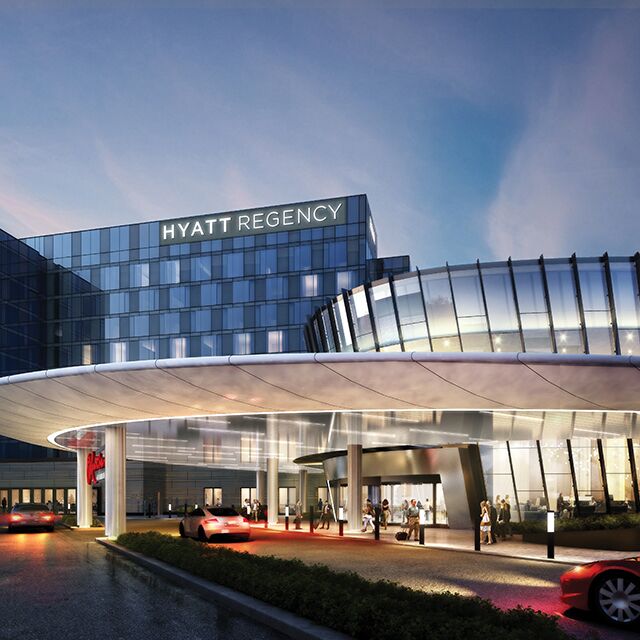 The challenge
Resorts World Casino New York City, is the only legalized gaming casino in New York City. The casino has thousands of guests going through their doors each day, approximately 1,000 employees, and 6,500 slot machines. The casino's primary security concerns include securing multiple points of entry, vendor offices, cashier cages, count room areas, and high-limit rooms. The requirement to accurately monitor and protect Resorts World's guests, facility, and personnel, demands a state-of-the-art solution that can meet its complex security needs. In 2021, Resorts World Casino opened their 400-room Hyatt Regency Hotel, which reinforced the need for an agile and adaptable security system.
The Gallagher solution
In designing their security solution, Gallagher worked closely with Resorts World to understand their unique challenges. A comprehensive security and surveillance program was implemented to seamlessly integrate people, processes, and technology. This program provides up-to-date information on personnel, incident reports, HD video integration, and Open Process Control integration, which automatically generates alerts. "Not only is Gallagher's system capable of numerous customizations, it's also scalable to the constant demand for growth and changing security requirements, making it a solid security system for our environment," says Erwen Brausam, Director of Surveillance at Resorts World New York City.
The business value
Gallagher's security solution affords Resorts World Casino a reduction of five-to-eight hours of labor per week by utilizing Command Centre's reporting and auditing capabilities. Gallagher Command Centre is at the centre of Resorts World's thorough and complex security program. It protects their world-class entertainment facility by safeguarding physical property, minimizing risk, and reducing operational costs.
Fast facts
Industry: Gaming/Entertainment
Casino Square Foot: 175,000 sq. ft.
Number of Slots and Electronic Games: 6,500
Number of doors: Over 200
Number of cardholders: Over 1,800
Our team on the ground
Need a hand? Let us put you in contact with one of our local business development managers.
Stay up to date with Gallagher
Get the latest Gallagher news, updates, and event information delivered straight to your inbox.