Safeguarding critical infrastructure
Gallagher's integrated security solutions provide complete site control from one central management platform. From robust and reliable perimeter protection to intelligent and flexible access control, Gallagher solutions ensure complete site security.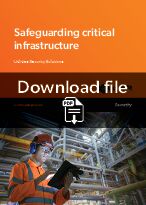 Gallagher security provides three key benefits for the utility sector.


Ensure public safety
Ensuring public safety is vital for any utility. Gallagher provides robust perimeter security to keep out those who should not be on site, and an intelligent access control system to keep track of who is on site and ensure they have the authorization to be there.
Secure hazardous areas with robust perimeter fencing and provide a deterrent with a monitored pulse fence.
Easily manage visitor access with Gallagher's Visitor Management system to ensure visitors on site are easily accounted for, health and safety obligations are met, and your site remains secure at all times.
Operational continuity
People rely on utilities; ensuring the site has operational continuity is paramount. Gallagher solutions help ensure operational continuity, while protecting the site's assets from theft and damage and avoiding significant costs associated with loss of supply.
Ensure that only authorized people can access the site. Keep the public, or people who may have nefarious intent, off the site.
Ensure that assets on site are safe, through a combination of perimeter protection and access control.
Ensure a safe and compliant work environment
Gallagher's security system allows you to carefully control access to hazardous areas, ensuring:
People can only access areas they are qualified to be in.
Your site is locked down quickly and effectively in the event of an emergency.
Staff are quickly and safely evacuated.
Comprehensive audit trails for internal and regulatory audits.
Stay up to date with Gallagher
Get the latest Gallagher news, updates, and event information delivered straight to your inbox.