Keeping things moving
Moving people and property safely and securely is a complex responsibility. A customized Gallagher security solution can give complete site control, keeping everything moving while carefully managing access to restricted areas.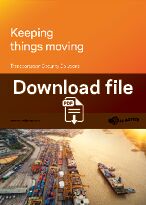 Gallagher security provides three key benefits for the transport industry.


Operational continuity
Gallagher solutions help ensure operational continuity, while protecting the site's assets from theft and damage and avoiding significant costs associated with loss of supply.
Ensure that only authorized, qualified people can access the site. Keep the public, or people who may have nefarious intent, off the site.
Ensure that assets on site are safe, through a combination of perimeter protection and intelligent access control.
Uninterrupted movement
The ability to move around site seamlessly is key to an efficient and productive business. When movement on site becomes interrupted, it can cost the business both time and money.
Manage smooth vehicle flow around site by activating gates in advance, eliminating the need for vehicles to stop, while ensuring only authorized drivers are accessing approved areas.
Simplify movement around site with Mobile Connect and Bluetooth technology.
Keep people safe
Gallagher's security solutions ensure that only authorized persons can enter hazardous or high-risk zones, ensuring the safety of both staff and the public.
Ensure people only have access to areas they are qualified to be in, by granting access based on enrolment of HR information.
Secure your site quickly with the push of a button to notify staff when an incident occurs.
Identify, locate, and respond to potential risks on site in real-time, enabling a swift and accurate response.
Stay up to date with Gallagher
Get the latest Gallagher news, updates, and event information delivered straight to your inbox.